PRO - LIFE BRIEFS
Fixing Our Kids
By Judie Brown

Today's commentary advises us to take a step back and look at the next generation
that we are attempting to raise. Do we see a generation of young people concerned
about their health, about academic success, about future families, about morality?
Or do we see these same children living in the here and now, and only for their
own selfish needs? And how do we go about fixing this devastating societal problem?
Judie Brown offers words of encouragement.
~~~~~~~~~~~~~~~~~~~~~~~~~~~~~~~~~~~~~~~~~~~~~~~~~~~~~~~~~~~~~~~~~~~~~~~~~~~~~~~~

More U.S. women are taking the "morning-after" pill, but generally just once, according
to the government's first report on how the emergency contraception drug has been
used since regulators eased access to it in 2006. About 11 percent of sexually active
women, or 5.8 million, used the pill between 2006 and 2010, compared to about 4
percent in 2002, the Centers for Disease Control and Prevention said in its report
released on Thursday. Among those who used the pill during those four years, 59
percent said they took it just once, while 24 percent said they used it twice, the
report said. Seventeen percent said they used it three times or more.
~~~~~~~~~~~~~~~~~~~~~~~~~~~~~~~~~~~~~~~~~~~~~~~~~~~~~~~~~~~~~~~~~~~~~~~~~~~~~~~~

Wonder how to dampen any lover's enthusiasm on Valentine's Day? Talk about sexually
transmitted diseases. That, at least, is the perspective of the federal Centers
for Disease Control, which announced just in time for Feb. 14 worries about a new
"super-gonorrhea" as well as millions of new cases of STDs that are costing taxpayers
billions of dollars. And by the way, the feds are hinting strongly that children
should be inoculated against human papillomavirus, which is sexually transmitted,
even though the drug has been known to cause death. Cheery thoughts, huh?
~~~~~~~~~~~~~~~~~~~~~~~~~~~~~~~~~~~~~~~~~~~~~~~~~~~~~~~~~~~~~~~~~~~~~~~~~~~~~~~~

The first cable news network wants to hear from post-abortive women. "As much as
abortion gets debated politically, rarely do we read stories of women who have
chosen to terminate a pregnancy," CNN posted on its iReport website. "We want to
hear from anyone who has had first-hand experience with abortion. How difficult
was the decision? How do you feel about it now? How did it change your life?" "Please
send your submission by Feb. 15," it concluded. As of this writing, 117 videos,
photos, and stories had been posted on the news channel's website, bearing the label
"not vetted by CNN." Most express regret, sorrow, and the pain of lost parenthood.
The negative reminisces overwhelmingly outnumber the positive.

Ski Reports MWF on Renegade Radio
Hear Jan Eliot, snow board fanatic and up to date reporter, with up to date ski reports all season long on the Renegade. Monday, Wednesday and Friday mornings. Courtesy of Sno County.
BE A RENEGADE VOUNTEER
You too can be an important part of the Renegade Radio team.
Renegade Radio is almost all volunteer.
You can learn DJ, Production, Music ratings, even Sales.
...and don't forget how it would help your Resume.

[email protected]


ONLY RENEGADE RADIO IS GENUINE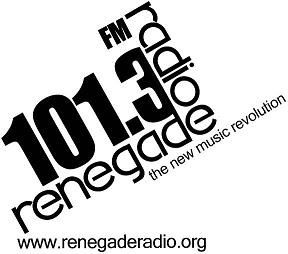 Although there is no connection between Renegade Radio and Renegade Productions, we get calls for Renegade Productions - mostly because Renegade Productions is not listed in a Nevada phone directory. That is because Renegade Productions is not in Nevada.
The phone number of Renegade productions is (530) 583-2001.

There is no connection between Renegade Radio and a Country radio station calling itself Renegade Radio in Texas (which has now changed its name to Texas Renegade Radio) We have advised those people that Renegade Radio is a registered trademark of the real Renegade Radio - this one.

There is no connection between Renegade radio and a web-based station in Los Angeles, calling itself Renegade Radio K.R.N.G. FM 96.1. We have advised those people that Renegade Radio is a registered trademark of the real Renegade Radio - this one (We are advised as of October 1, 2007 that this entity has now changed its name).

There is only ONE genuine Renegade Radio. One of the most listened-to Christian Rock Radio Stations in America. It is us.
SEE PORNO STARS HERE!
Pictured in a group of ex-porno stars who work and pray to help others OUT of the porno industry. You can help too by visiting the web site address below.

http://www.thepinkcross.org
HELP FOR THOSE ADDICTED TO PORNOGRAPHY
Sexaholics Anonymous is a 12-step program of recovery which welcomes those of you who wish to stop your addiction to:

Sex
Sexual lust
Sexual fantasy
Pornography (movie, print, or Internet)
Masturbation
Fetishes
Voyeurism
Virtual sex or relationships
Dependency relationships
Wanting to be lusted after, or
Other sexually self-destructive thinking and behavior.

Know that you are not alone.

If you need help, call Northern Nevada Sexaholics Anonymous at (775) 527-4210, email - [email protected], or visit the sareno.org website. There you'll also find the latest meeting information. Be assured that your anonymity will be protected.

Even more information about Sexaholics Anonymous is available on the international SA website, sa.org. There, you can also see if a group is near you if you live in an area other than Northern Nevada.

As of late October 2012, our Northern Nevada meetings are in Reno and Carson City. If there is enough interest from those in Fernley, we'd be happy to start a meeting there; please let us know. Or you can check out SA's phone meetings (PDF).
BUSINESSES THAT SUPPORT PORNOGRAPHY

Holiday Inns,
Best Western Inns.
Sheraton Hotel, Downtown Orlando.
National Endowment for the Arts (via a stimulus grant)
KNOW LYRICS TO YOUR FAVORITE SONG ?
Renegade Radio presents the lyrics to some of the most popular songs on our playlist.

**************************************

KRONIKLES
TAKE MY LIFE
Lyrics:
When I fall down you show me truth.
Like a carousel that goes around and around and around like a vicious cycle
I hear you again and again and again calling out my name.
Take my life.
Make me whole again.
Iíve been searching for so long.
Take my life.
Make me whole again.
Iíve been looking for so long.
Through my mistakes I live for you and all I face, you pull me through.
Every day I find myself but losing you. So wonít you come and take me far away.
We all fall, we all know, we need you, we love to blame
Thereís no other, we want to feel your flame. Fire
We are not left on our own Publishing: Sound State Music Writer(s): Dan Sciortino, Johnny Esposito

~~~~~~~~~~~~~~~~~~~~~~~~~~~

Keep Your Eyes Open
If you could soldier on
Headstrong into the storm
Iíll be here waiting on the other side
Donít look back. The road is long
The first days of the war are gone
Take back your former throne and turn the tide

Cause if you never leave home, never let go
Youíll never make it to the great unknown till you
Keep your eyes open, my love
So tell me youíre strong, tell me you see
I need to hear it, will you promise me to
Keep your eyes open, my love

Just past the circumstance
The first lightÖ a second chance
No child could ever dance the way you do
Oh, tear down the prison walls
Donít start the curtain call
Your chains will never fall until you do

Cause if you never leave home, never let go
Youíll never make it to the great unknown till you
Keep your eyes open, my love
So show me your fire, show me your heart
You know Iíll never let you fall apart if you
Keep your eyes open, my love

Open up your eyes
The weight is unbroken
Open up your eyes
Keep your eyes open

Donít let the night become the day
Donít take the darkness to the grave
I know pain is just a place
The will has been broken
Donít let the fear become the hate
Donít take the sadness to the grave
I know the fight is on the way
When the sides have been chosen

Cause if you never leave home, never let go
Youíll never make it to the great unknown
Open up your eyes
Keep your eyes open
So tell me youíre strong, tell me you see
I need to hear it, will you promise me to
Keep your eyes open, my love
So show me your fire, show me your heart
You know Iíll never let you fall apart if you
Keep your eyes open, my love

~~~~~~~~~~~~~~~~~~~~~~~